#XperienceTravelTheTaylorWay
Mexico's 16 Denominations of Origin Celebrated with Special Events At Grand Velas Riviera Maya, Feb 5-15
Riviera Maya, Mexico (January 21, 2019) – From February 5 – 15, Grand Velas Riviera Maya pays special homage to the natural and cultural heritage of Mexico. The country's 16 denominations of origin denote specific locations within the country as the source of a product with unrivaled quality. Special tastings, pairing menus, cooking classes, spa treatments, artisanal crafts and more will showcase these offerings. The current products recognized include: Cacao from Tabasco; Morelos Rice; Ataulfo Mango of Chiapas; Chile Yahualica from Jalisco; Papantla Vanilla from Veracruz; Chile Habanero of the Yucatan Peninsula; Talavera from Puebla; Olinalá from Guerrero; Amber of Chiapas; Bacanora from Sonora; Charanda; Mezcal; Sotol; and Tequila.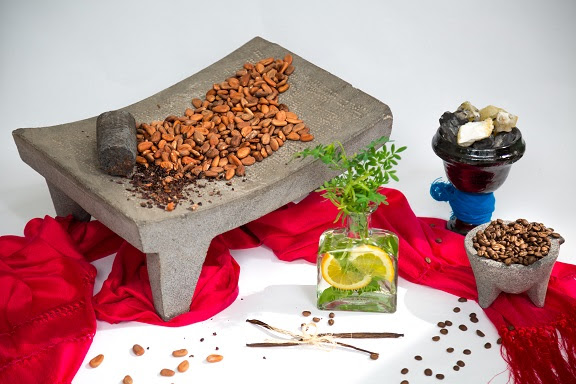 During the event, special culinary offerings range from an ancestral drink tasting of Bacanora, Sotol, Charanda, and Tequila that transports guests around the country and back in time to cooking classes featuring rice, coffee, chocolate, mango, vanilla and chiles. Artisanal Mezcal, created exclusively for Velas Resorts by a master mezcalero, is stocked insuite.
When it comes to arts and crafts, artisans will be showcasing Talavera pottery decorated with traditional Mexican designs. A special welcome amenity for guests consists of an Olinalá Box and Amber Bracelet. Olinalá designs are a result of a long and laborious process (involving up to 29 separate steps) of carving, painting and the application of lacquer (a resin for varnishing derived from certain plants and insects). Amber is a fossilized resin obtained from the Guapinol tree, extracted from caves since the Pre-Hispanic era.
On February 8th and 15th, the resort will host Mexican fiestas featuring all the food, beverages, and handcrafts in just one place.
At the resort's renowned Se Spa, three 80-minute treatments tap into the lauded products. A Therapeutic Mezcal Massage integrates different techniques, manipulations, and pressures according to the needs of each person to achieve maximum muscle relaxation. It ends with a scrub of mezcal infused with herbs that help reduce muscle tension. A shot of mezcal with lime and chaya is served at the end of the treatment. Also offered is a Maya Kaapeh & Kakaw Experience. The offering activates blood circulation with a coffee exfoliation, followed by an antioxidant massage with cocoa oil, giving the skin vigor and vitality. A gourmet tasting of cocoa, coffee and Ataulfo mango sauce are served post-treatment in a Talavera dish. Additionally, a Kaab & Xahnat Treatment is available featuring a face and body massage with honey from Xtabentún and a vanilla balsam that helps de-stress.
Nightly resort rates start at $434 USD. Rates are per person based on double occupancy and include à la carte gourmet meals at a variety of specialty restaurants, luxury suite accommodations, premium branded beverages, 24-hour in-suite service, fitness center, taxes, gratuity and more. For reservations or additional information, call 1-888-407-4869, or visit https://rivieramaya.grandvelas.com/.
About Grand Velas Riviera Maya:
The AAA Five Diamond Grand Velas Riviera Maya is an ultra-luxury all-inclusive resort set on 206 acres of pristine jungle and mangroves and with the finest white sand beach in the Riviera Maya. Guests can choose accommodations among oceanfront, ocean view and a Zen-like tropical setting, embraced by the flora and fauna of the Yucatan Peninsula's jungle. All 539 designer-like suites are exceptionally spacious, more than 1,100 square feet each, all with balconies, and some with private plunge pools. All feature fully stocked mini bars, L'Occitane amenities, artisanal mezcal, and Nespresso coffee machines. Bathrooms deserve special mention with walk in glass shower, deep soaking Jacuzzi tubs and marble interior. Eight restaurants, including five gourmet offerings, present a tour through Mexico, Europe and Asia. Cocina de Autor, at the hands of world-renowned celebrity chefs Bruno Oteiza and Mikel Alonso, holds the AAA Five Diamond Award, the first all-inclusive restaurant in the world to win this prestigious distinction. Se Spa is the region's largest spa sanctuary at more than 90,000 square feet, known for its authentic Mexican treatments, offerings from around world and signature seven-step water journey. Other features include 24-hour Personal Concierge; 24/7 in-suite service; three swimming pools; two fitness centers; water sports; innovative Kids' Clubs and Teens' Club; baby concierge; Karaoke Bar; Koi Bar; Piano Bar, and business center. The resort offers more than 91,000 square feet of meeting space and outdoor areas for events inclusive of a 31,000-square-foot Convention Center, able to accommodate up to 2,700 guests. The resort has won numerous awards from Travel + Leisure, Conde Nast Traveler, USA Today and several other magazines and major companies worldwide, including Virtuoso's Best Spa and TripAdvisor's Hall of Fame. A member of the Virtuoso Hotels & Resorts Program, Grand Velas Riviera Maya was built and is operated by Eduardo Vela Ruiz, founder and president of Velas Resorts, with brother Juan Vela, vice president of Velas Resorts, by his side. For reservations or additional information, call 1-888-407-4869, or visit https://rivieramaya.grandvelas.com/.
.
from Riviera Maya Blog http://bit.ly/2SpuZZH Visit Taylor & Co. Travel's AllInclusive website at http://bit.ly/2ndHCGE for all your travel, wedding & accessory needs, and to book your Riviera Maya Xperience or Destination Wedding!!!
via IFTTT